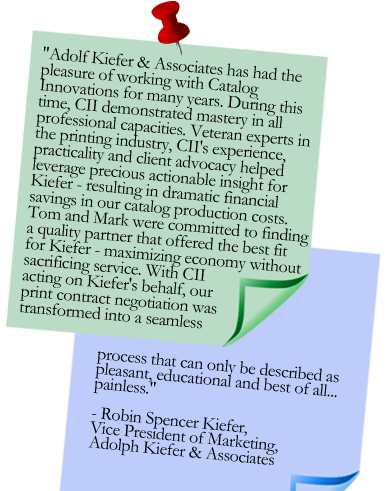 Printing Services Chicago | Print Broker
Our printing services include print project management and print sourcing which helps guide a client's print project from inception to completion at lower prices and without any of the hassles. This service not only saves our clients money on their printing expenses, but also minimizes the interruption to their normal activities by managing the entire processes involved in print production. With our extensive printing expertise that we have gained from working within the industry, we can manage each project and uncover many ways throughout thedesign and implementation to streamline the printing process and save costs.
Print Management
There are many steps involved in the printing process between the initial design and the finished product that requires the coordination of the client and print companies. This can become tedious, as print procurement and distribution may take too much time from a company's normal operations and those unfamiliar with the print industry may end up spending more money throughout the printing process. Catalog Innovations, Inc. provides print management services to clients looking to procure the most cost effective printing services. Our expertise and experience within print production and distribution allows us to meet our client's goals within their budget.
Print Specification Optimization
Specification optimization includes making adjustments to the design and the final product such as size and paper type so that clients get the most for their allotted budget as well as identifying problems in the design that need to be resolved. Optimizing the initial design before submitting it to a printer will not only save money in production costs, but also help to make the process quicker and more efficient.
Qualified & Professional Printing Partners
Catalog Innovations has formed partnerships with top manufacturers within different niches of the market. This allows us to contract with print partners that can best help our clients achieve their specific goals and coordinate the services being provided. We manage the interaction between the printing company and our client with contract analysis and implementation as well as with continued consultation to assist with making adjustments that will save more costs along the way.
For more information on how Catalog Innovations can help assist you with your next print project, click here.
Our most important product is our customer. Because of this philosophy, clients can expect:
Fresh insights toward solutions
Assistance in developing specifications
Coordination of all manufacturing services
Catalog and Publication contract analysis
Swift and accurate response
Each account and every quote handled as a team
Flexibility to identify and solve production problems
Commitment to your bottom-line
Freelance Press Checks at your printer, if needed